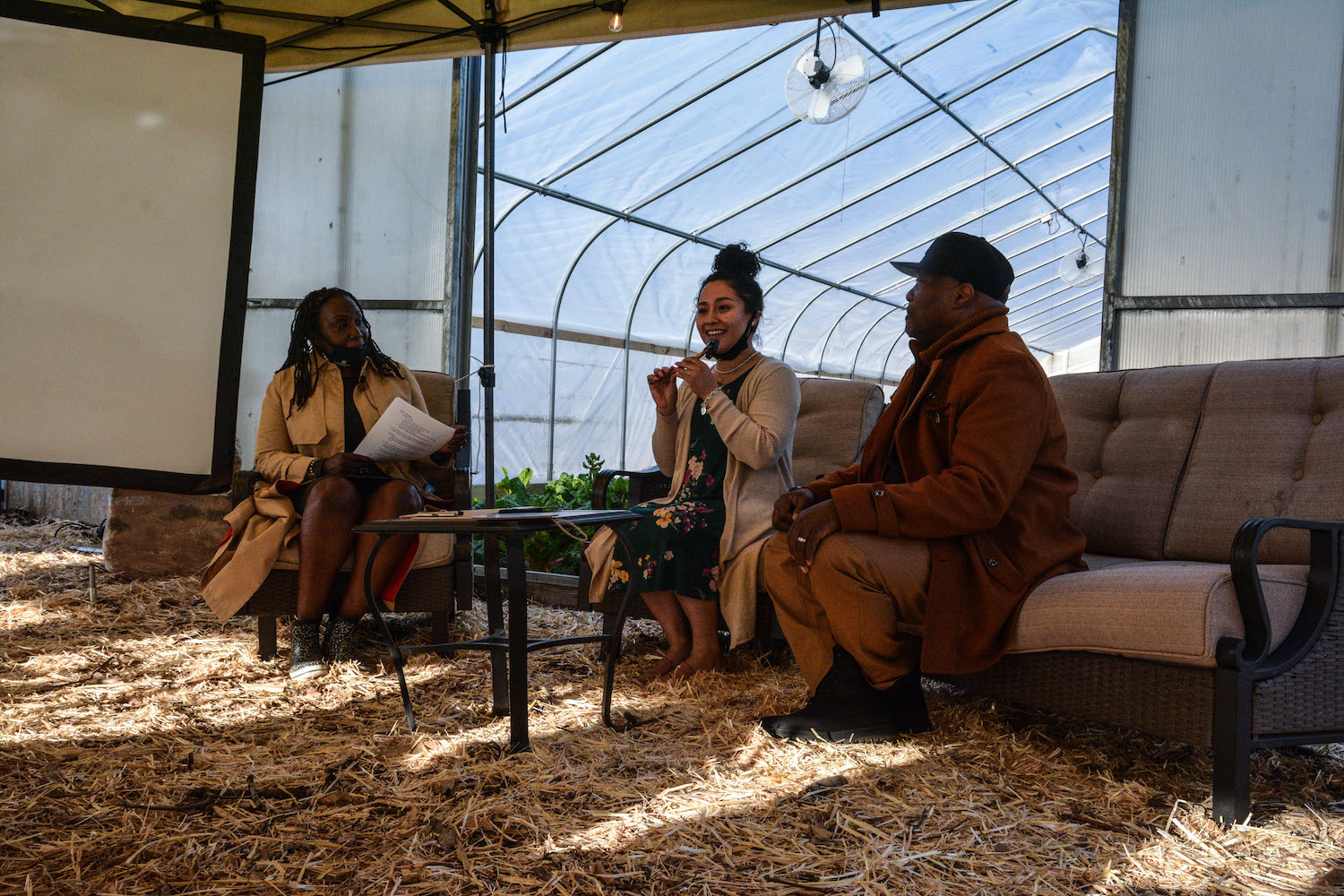 Written by Growing Home's Hope Gundlah
There's something called "collective effervescence." It's the fancy name for that glowy, joyful excitement you feel when you're gathered with others for a common cause. Our brains need regular doses of this togetherness, but during the COVID-19 pandemic, it's been tough to come by.
That feeling was everywhere at Growing Home's 19th Annual Benefit on May 6th. A small group of sponsors, staff, and special guests gathered for a farm-to-table dinner at the Wood Street Urban Farm, while virtual viewers tuned in from coast-to-coast, from Boston to Utah. In all, over 300 attendees joined the celebration.
Thanks in large part to our presenting sponsor, William Blair, the Benefit Gala was a huge success. From corporate sponsorships, Paddle Raise donations, and Silent Auction bids, we were able to raise over $200,000 to support Growing Home's essential programs.
The highlight of the night was a series of interviews with Growing Home program participants, alumni, staff, and volunteers. In keeping with the Benefit's theme, each person was asked, "What's your recipe for resilience?" What's kept you going during these turbulent times?
Everyone's answer included one common thread: Growing Home provided an anchor. Even during virtual classes and socially-distanced farm work, that feeling of joy, connection, and shared determination at Growing Home had stayed alive.
For 2021 grad Denise, getting "lost in the garden" was therapeutic. Alum and Farm Site Manager Fred was glad to be able to stay productive when the rest of the world seemed to be at a standstill. 2021 grad Stef called the "Transforming Impossible to Possible" classes "group therapy" — a space where Production Assistants could check in on each other and process current events. When staff felt alone and powerless against broken systems, delivering food to Englewood residents reminded them that they were still part of a supportive team and still able to make a difference.
Growing Home was thrilled to have an alum of five years share his story at this year's Benefit. Ricky graduated from the program in 2016 after returning home from incarceration. Growing Home helped him get a job at Bimbo Bakery, where he still works today. He has been promoted from sanitation worker to shipping-and-receiving forklift operator, and he's currently training to operate boom lifts and scissor lifts. Ricky credited his wife as his backbone and his inspiration; when asked about his promotions, he humbly explained, "I'm just trying to succeed in what I'm doing, that's all."
So what's Ricky's recipe for resilience? He says he learned it at Growing Home. "Don't give up — just keep doing what you're doing. If you have a job, attend your job, do your job, do your job safely, and go home to your family. That's my path every day: go to my job, do my job, and do it safely, so I can return to my family." Like so many others at Growing Home, Ricky found that his work and his bonds with others anchored him during a year defined by fear, uncertainty, and injustice.
The gala ended with a call to action from incoming Board President Stew Weiss — an invitation to join this resilient family. "It's so easy for us to separate ourselves from the problems in our city, from the problems in our country." Mr. Weiss urged people from all communities "to come down here and actually connect, to stand on the same ground, to pull sustenance from the same ground, and to grow together."